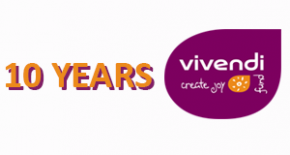 Vivendi's solidarity program celebrated its tenth anniversary with joy and emotion on February 13. Vivendi Create Joy has been creating and bringing joy to young...
This roll-out is part of Canal+ Group's development strategy in territories with high growth potential. Canal+ Group announced the launch of its offer in Myanmar,...
Co-financed and distributed by Studiocanal, the new animated adventure comedy from Aardman Studios opened on January 26 in the United Kingdom. After Wallace & Gromit and Chicken Run, the British...